Quean asks us, "What's the worst thing you've ever done?" She reports that her answer would change on a daily basis, and cites the pigeon story eloquently as today's answer.

Gets ya thinkin' about your own sordid past though, dunnit.

Likewise, I'd have to report that the sheer number of awful things I've done bubbles like a kettle of sebaceous evil ooze, each bursting bubble representing another bad choice or action I've taken in the past.

A few bubble in my memory now.

There's my abuse of Brandy as a child. A quick search through my archives here and I find (ironically?) that it was almost a year ago today that I wrote about that little episode.

(Singing: I got them Mid-March Confess-Your-Sins Blooooooooz…)

But, oddly, I feel cleansed of that sin. Karma paid me back threefold, almost immediately, and for the next three years I understood only too well what I did to Brandy, and just how very much it might have hurt her because it came back to me, and worse.

There's another childhood thing I did that I have not been able to justify, and it has been sitting on my conscience for twenty years now. May I perchance expunge my soul by shifting my burden to you? Thanks, Gentle Reader. You're really too, too.

I was ten or so in the community jacuzzi one lovely summer day. There was a little neighbourhood boy whose name escapes me today. We'll call him "Brian Bindlestiff," for everyone had a first and surname back then.

All of my friends had left the jacuzzi to go swim in the big pool. I was sitting alone in the hot tub when Brian jumped in. He was 7. He was scrawny. No one really liked him much, but for no better reason that those two attributes.

"Hi. I'm Brian. Will you be my friend?" he said to me with a sincerity that verged on pathos.

I shot him a scathing look of disdain. Surely he must know that he was an Untouchable. How dare he hope for any positive answer to his question. Silly, scrawny, 7 year old Brian Bindlestiff!

"NO, Brian Bindlestiff!" I barked back at him. Just that. Simple. Direct. To the point. End of negotiations.

I watched his hopeful little face crumble, his intrinsically moist and pleading eyes grew moister and pleadinger. His eyebrows raised in a last ditch effort at hope and then the tears started rolling.

He waded his way across the pool, scrabbled out clumsily and nearly limped away, hunched over, head so low he looked like a walking torso.

I remember this all vividly. I was aware, perhaps for the first time, but certainly not for the last, of a sense of distilled self-loathing and perplexity at my actions. Why on earth was I so mean to Brian Bindlestiff? He's certainly never done anything to me.

I knew even then that I had succumbed to Popular Consent on the Brian Bindlestiff public opinion poll. And I felt wretchèd and humiliated and cheap and common. (But not in a good way.) That may have been the first time I consciously realised that I wished to belong to no herd, and that maybe it was better to be alone and right than hang with the brutes and enjoy the weak reward of "popularity."

Ah, but Popularity is the legal tender of the young and tender. Shortly after the Brian Bindlestiff episode, I would commit the same grave error with Brandy.

I watched the boy retreat, doing the funny walk everyone did in bare feet on the uncomfortably spikey rock pavement of the pool area. He stopped by a table with an umbrella, his back still to me. I saw his thin, scrawny, fragile frame shaking with silent sobs. I could count his ribs.

I took a deep breath and ducked under the water, intent on making it my new home. I will never come up for air. I cannot see Brian Bindlestiff's runtish frame shaking like that. I cannot see his puffy red eyes giving me a look of hatred and hopefulness at once. I will die under the water.


---

But that's all so long ago, Brian and Brandy's misuse. What have I done recently that makes me think perhaps I'm not the most special boy in the world?

Well, I just realised that I've forgotten my mother's birthday was today. That's pretty fucking tacky. She never forgets my birthday. Or Valentine's, or Easter, or St. Patrick or Groundhog Day or any other major or minor holiday.

And I certainly love my momma.

I just suck, is all. And sometimes, just sometimes, sucking is a bad thing.


---

Tomorrow. Please come and keep me company, eh? I promise I won't forget your birthday or be mean to you if you're scrawny. (But if you're 7 years old, I'm afraid I'll have to kick you out. It's a bar, after all.)

I've got fun little bar games planned. Tell me you were referred by this page, and I'll pour you a very heavy-handed drink.

(Absolutely shameless, I am.)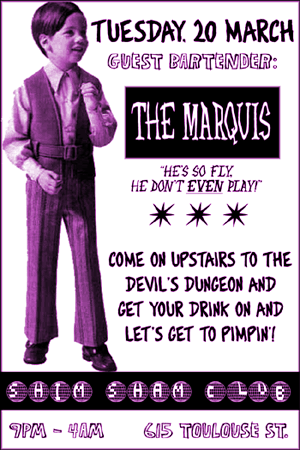 "DJ, SAVE my life!" TODAY: I've been getting into 70's porn music: "Theme From 'Deep Throat'" (3.6 MB)
(ARCHIVES)