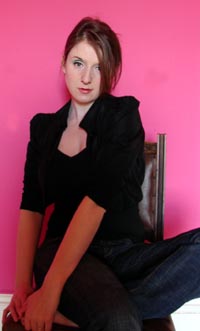 MERCY BREHENY

My kingdom for a perfect lounge act.

With a seductive voice full of smoke and treacle, Mercy Breheny croons her way through the classics and curious covers with the smooth accompanyment of her band of merry jazz minstrels in a manner that would make Julie London sit up and say, "God damn it! I've been outdone!"

Sophisticated, alluring, enticing and naughty, her songs soothe the soul while they fire the loins. And her stage presence is charming as a hellcat — or purring hellkitten.

Located in the majestic city of Edinburgh, Scotland, Miss Breheny performs her magic in intimate environments around town, and most frequently in August during the famed Edinburgh Festival.

If you want a show that makes you sigh nostaligically for days gone by as she expertly interprets some of the best music ever written, do yourself a favor and don't miss her lounge act.

Warm up with this exceptional chanteuse by downloading her free mp3's.